Having trouble choosing the right HDMI cable? It's easy with Cable Chick's HDMI Buying Guide!
Setting a Goal

With so many types of HDMI cables available, we're often asked which one is the best choice. We're here to answer that question, and also determine when it's a good idea to spend a little extra, and when it's safe to save your money. Not all HDMI cables are created equal, and while throwing money at a problem may fix it some of the time, Cable Chick is here to save your wallet as much stress as possible!
First, we'll dispel some of the myths and mysteries about HDMI, but you're welcome to skip straight to the guide section that interests you if you prefer:
Shopping by Length Shopping by Install Type Shopping by Features


Boosted Cables & Extender Kits Mini and Micro HDMI
True Lies

Before we get into the nitty-gritty, we should clear the air about HDMI cables, and why both cheap and expensive ones exist.
There's been a lot of half-truths and hot air being blown around about HDMI cables - some of it coming from marketing departments trying to upsell you on a costly cable, and some of it due to HDMI themselves letting the industry run wild on labelling in the early days. Only recently have they put their foot down to stop retailers selling cables according to HDMI version numbers, but with customers conditioned to expect these stats to be listed on the cables they purchase, it's harder than ever to make everyone happy. So what is the truth?
The truth about HDMI is that spending more on a cable won't improve your picture or audio quality. That fidelity is set exclusively by the source quality; eg: Blu-ray vs DVD etc.
The truth about HDMI is that, for lengths under 10 metres (or so), cheap cables perform pretty much the same as expensive ones.
The Digital Cliff
Because the HDMI signal is digital, it has a very narrow margin for error before failing (known as the cliff effect or 'digital cliff'). Whereas analogue signals gradually fade to snow, digital is more or less perfect right up until the signal is weak enough to drop bits of data - at which point it dies almost immediately.
Why Pay More?
Some people make the argument that there's no reason to pay extra for fancier cables, but in some cases that's exactly what's called for. As the price of the cable increases, so to does the quality of materials, the durability of design and the inclusion other features which help make sure the cable can live up to expectations over longer distances.
A cheap cable at the low end may not have Nylon braiding, which is preferable for in-wall installations. Conversely, at the expensive end you may not get moulded plugs, which sacrifice beauty for being practically unbreakable.
There are four major categories of HDMI that Cable Chick stocks:

Basic HDMI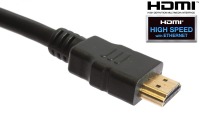 Available Lengths:
0.5m to 20m

Pro Series HDMI

Available Lengths:
0.5m to 20m

Premium HDMI

Available Lengths:
1m to 15m

Extreme HDMI

Available Lengths:
1m to 20m
Cable Chick won't ever sell you a HDMI cable that doesn't work, but since cable testing is done under the best possible conditions, your individual circumstances, environment and needs must be considered. There are no one-size-fits-all solutions.
Shopping by Length
When customers come to us and ask "Which HDMI cable should I buy?" the first question we ask is: How far do you need your HDMI cable to go? Length is the predominant determining factor in most cases.
The following table shows where we draw the line for cable lengths supplying certain content. Bold shows the best performance-to-cost ratio.
These recommendations are by no means applicable in all circumstances - after all, these figures come from our own testing under perfect conditions with a set of known variables. Things may work out differently under more difficult conditions.
Shopping by Install Type
Both customers and tradespeople regularly come to us for advice on which cables are best suited for running inside walls and ceilings. These cables need to be rugged, and also perform well over longer distances or through wall plates.
Whenever possible, we recommend Nylon Braided cable for in-wall installations for the added protection against strain, physical damage and pests, but it's not essential. On shorter runs or for cavities above the ground floor, you may be able to save money with a basic cable.
These recommendations may be a bit controversial to some - if a cable works fine outside of a wall, why won't it be just as good inside? It comes down to this: due to the trouble it takes to get cables in and out of building cavities for replacement or warranty claims, we'd prefer to see you install a cable which has an impeccable track record.
Boosted Cables
You may be tempted to install a boosted HDMI cable in a wall or ceiling, but don't forget: Boosted cables are directional and require a bulky booster chipset which won't fit inside narrow conduit. Consider an Extender kit instead.
Shopping by Features
At Cable Chick, we only stock HDMI cables rated as High-Speed with Ethernet. That means that no matter which cable you purchase, you'll have access to CEC, ARC, Ethernet, Deep Colour, Multi-Channel Digital Surround Sound and many more. The cable doesn't limit the features of HDMI itself, but physical differences may come at a cost. Here's another handy table:
Boosted Cables and Extender Kits
Having regular HDMI cables top out at 20 metres can be a real pain if you have a large home or are working on a commercial installation, but we have a couple of ways around this limit - both of which have their drawbacks.
Mini & Micro HDMI Cables
Most of the time, you'll only find Mini and Micro HDMI on portable devices like tablet computers, netbooks, cameras, camcorders – things that run on battery power. They don't typically have the grunt to supply a strong HDMI signal, and the smaller connectors mean smaller gauge wires inside the cable. This means that Mini and Micro HDMI cables generally top out at 5 metres for 2D 1080p content, and 4K may only be possible on 1 metre cables. When shopping from Mini and Micro HDMI, always select the shortest possible length you can live with.
Still Confused?
If the guide above hasn't helped you out, don't worry! Just contact us and we'll be happy to recommend a cable to suit your needs. Provided you don't want to do 4K over 40 metres, of course. =)
---