Computer & AV Cables
Computer Cables
Pro Audio Cables
Switches & Splitters
Speakers & Headphones
Mounts & Brackets
AV Wall Plates
Adapters & Connectors
SmartPhone & Tablet PC's
Other Goodies
Power Products
Customer Testimonial
Thank you - of all the companies that I deal with online, you have by far the best service. I recently ordered something at 3:30 pm and had it on my desk before 5:00 - unbelievable!
Colin, QLD
Active HDMI to DisplayPort Converter Cable
+ FREE SHIPPING!
Active HDMI to DisplayPort Conversion up to 4K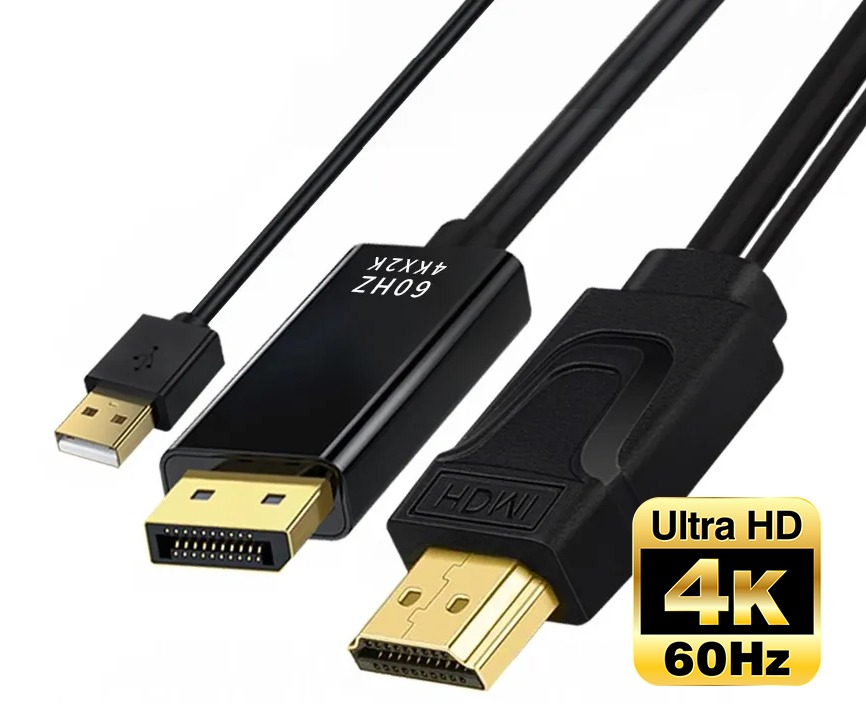 Protected by 12-Month Warranty
30-Day Money Back Guarantee!
100% Australian Owned & Operated
Product Description
Yes! An actively-converted HDMI Source to DisplayPort Monitor solution!
Converts from a HDMI source device to a DisplayPort screen. USB Powered and compatible with all resolutions up to 4K@30Hz. Great for connecting HDMI based media players to DisplayPort PC monitors.
For years it's been a simple matter to go from DP to HDMI because the DisplayPort standard natively supports the HDMI standard - but the other way? What a nightmare! That was until now, when this amazing active HDMI to DisplayPort converter arrived. It gives you reliable, high-resolution signal converting from HDMI v1.3 and v1.4 hardware to DisplayPort v1.2, with video support up to 4K@30Hz (3840 x 2160 @ 30Hz) including 1080p 3D and 7.1 channel surround sound up to 192KHz.
As an active (powered) device, an integrated USB cable is included and essential for operation. Simply attach it to any powered USB socket, either on your Laptop, display, PC or USB wall charger (not included) and you're good to go. This additional power runs the conversion hardware that processes the HDMI standard to DisplayPort standard.
The converter cables terminate at male HDMI and USB plugs, with a small box housing the female DisplayPort socket at the other end. Use it with your own DisplayPort cable, or grab a length from us in our DisplayPort category.
Please note: We have not yet tested this product for content protection compatibility with AppleTV, Foxtel, Austar or other PayTV services and cannot guarantee this functionality

Inputs
1x HDMI (Digital Video & Audio) - Male
1x USB Type-A (Power) - Male
Outputs
Supported HDMI Input Resolutions
2D up to 4K x 2K @ 30Hz
3D up to 1080p @ 120Hz
More features include:
12 Month Cable Chick Replacement Warranty!
Converts Digital HDMI Video + Audio to DisplayPort 1.2 Video + Audio
Not Bi-Directional - HDMI to DP only
HDMI input support up to v1.4 standards
Full resolution pass through up to 1080p @120Hz and 4K@30Hz
Supports Video and Audio*
Supports Deep Colour up to 16 bit
Supports surround sound up to 7.1 Channels at 192KHz
Low Power Draw: 500mW Acive & 25mW Standby
Colour: Black
Hardware note: This converter relies on the capabilities of the attached hardware to provide feature support. To use Audio, Deep Colour, 3D or 4K features, your source device must support them also over HDMI.
iMac note: iMac computers have a limited input resolution of 720p. Full HD or 1440p iMac computers will be limited to 720p, even though this adapter can easily achieve 1440p@60Hz on regular Quad HD monitors.

Please note this product does not include any cables for connecting to components, unless otherwise stated in the description above. You are free to purchase cables separately from our extensive range to get the right cables for your requirements.
Related Cable Chick Blogs
Written on 29th March, 2016 by Cable Chick
What is USB Type-C? How does it fit in with existing versions of USB? USB Type-C and USB 3.1 Gen 2 are explained simply in our in-depth article on the latest reversible connector!
Read More
Written on 29th Oct, 2014 by Cable Chick
Knowing how data moves between your home entertainment components is an important first step to troubleshooting problems and connecting new devices.
Read More
Category:
Technology Guides
Tags:
HDMI
,
AV Switches
,
How To Guides
,
Essential Reading
,
Tech Guides
,
Speakers
,
Home Theatre
,
AV Splitters
,
Projectors
,
Televisions
,
Display Devices
Written on 29th Oct, 2013 by Cable Chick
We hear the terms 'active' and 'passive' attributed to cables and equipment all the time. But what does it mean? Which one is better? Which one do you really need? We clarify the difference and explain how to choose between them.
Read More
Customer Product Reviews
Product Review by
John, SA
- 13th May, 2015
I have been wanting to plug my Apple Cinema Display into my PC for some time and after my Apple Mac developed a fault I decided to go searching for a way to do this. After much searching I came across this product with the promise that it would enable me to plug it into my HDMI output in my PC. I had to buy a mini display port to display port adaptor but this was not an issue. I plugged the monitor into the converter , I pluged the USB and HDMI into my PC and it just worked. I did not have to adjust any settings, I did not have any fiddling, it just worked. Best value for money in my opinion. This is the way technology should be.
FAQs for: DisplayPort Cable
Can this be used with ps4 in conjunction with a benq monitor so i can play games at 120 hz with sound ,monitor is 3d ready?
- Posted: 24th Nov, 2014
Answer:
"Monitor refresh rate (Hz) is not tied to frames per second (FPS). Your TV can run at 120Hz independently of the incoming image data. Most titles on the PS4 are capped to 30 or 60 FPS, and you can enjoy them at 60Hz or 120Hz without changing away from HDMI. Some people are of the opinion that 120Hz for gaming on capped 30FPS titles is undesirable. This adapter won't make a difference in the frame rate of the games or affect the potential Hz of the screen."
How long a displayport cable can you connect?
- Posted: 5th Feb, 2015
Answer:
"Maximum length for standard DisplayPort cables is 5 metres, which this adapter supports. We recommend to use the shortest cable possible for best results."
I have a Gaming PC with 2 x GeForce GTX570's running SLI. The output from the cards is Dual Link DVI or Mini HDMI. I just purchased a AOC G2460PG 24" Monitor that ONLY has a Display Port connection (it's little brother has VGA, Dual Link DVI and HDMI).
I have purchased several cables and adapters to try to make this work but nothing. I have tried Dual Link DVI from PC to HDMI to Display Port on monitor...nothing. Have just purchased a Dual Link DVI to Display Port cable. Nothing.
Running out of ideas. Should this work?
?
- Posted: 29th June, 2015
Answer:
"Yes. This cable is designed specifically to go from a HDMI source and convert it for use with a DisplayPort screens. Other DisplayPort to HDMI/DVI cables require DisplayPort as the source (which is why some cables have not worked for you). This one has been tested in-house and works up to 4K@30Hz, which leaves plenty of performance to accommodate your 1080p panel. However, we have not tested this with G-Sync compatibility, so we can't guarantee that part as it may need a true DisplayPort link."
I purchased this cable last week to go from a Toshiba Satellite laptop HDMI port out to two new Dell U2415 monitors. I have daisy chained with DP. Works perfectly, except I can not extend the monitors. The laptop only sees the Dell monitors as one screen. Have updated every driver and checked all specs... Is it possible to have all three screens independent with this cable?
- Posted: 9th May, 2016
Answer:
"Unfortunately not. Daisy-chaining is only available on computers which have DisplayPort v1.2 connections. This adapter speaks to the HDMI socket of your PC, which does not currently support display chaining or other advanced DisplayPort functions such as MST. Only features shared by both DisplayPort and HDMI v1.4 hardware are supported, such as multi-channel audio, deep colour, 3D and high resolutions."
I'm interested in using this with a G-Sync monitor that has only one DisplayPort connection (Acer XB270HU), to connect a console. Has the cable been tested to work with G-Sync displays?
- Posted: 6th Feb, 2017
Answer:
"Yes. While G-Sync technology only works over DisplayPort, G-Sync monitors can still work with non-G-Sync sources. This cable will work between the HDMI console and the DisplayPort monitor at the maximum resolution of the console/source, but G-sync will not be available. However, the Acer Predator does offer ULMB and 120Hz refresh rates which are not tied to the G-Sync technology and may be available for use with HDMI sources."
Will this converter work with a PS4 Pro to convert HDMI 2.0 to display port monitor running at 2160P 30FPS?
- Posted: 24th Feb, 2018
Answer:
"Our SW4131 unit conforms to HDMI 1.4 specs, as it predates HDMI 2.0. 4K playback at 30 fps is the standard for HDMI 1.4, so that will not be an issue.

However, you will not get the increased colour depth, additional audio channels, or other sundry features of HDMI 2.0."
Ask a New Question About This Product...
Back Order for
1st Week of Apr
Dispatch!
Converts from a HDMI source device to a DisplayPort screen. USB Powered and compatible with all resolutions up to 4K@30Hz. Great for connecting HDMI based media players to DisplayPort PC monitors.
Sale Price... was $89.95
Expect to Pay: $99.95
Down $37
Back-Order Today (Save 10%)
This item has Sold Out
, however it is available for back-order today for only
$62.96
(Normally $69.95)
Order today, for dispatch
ETA: 1st Week of April
When back-ordering, you can select at the checkout to have your order part-shipped, or shipped together when all items are in stock.
Notify Me When In-Stock
Enter your email below to be automatically notified when this item is back in stock.
202
Views today
10
Sold this week
BACK-ORDER AVAILABLE!
Ships 1st Week of April
FREE Standard Shipping
or
$6.00 Express Shipping
Pay by Secure Credit Card, PayPal or Bank Deposit
Product Specs
Product Code:
SW4131
Connector A:
HDMI v1.4 (Male)
Connector B:
DisplayPort (Female) + USB Type-A (Male) for Charging
Colour:
White
Packaging:
N/A
Cable Type:
HDMI to DisplayPort Converter
Customer Testimonial
Thanks Cable Chick - It was delivered within 24 hours and the product was great!
Deryck, NSW
Other people also purchased these popular DisplayPort Cable Products
Copyright © 2006-2019 Cable Chick. All Rights Reserved. All Prices in $AUD Dollars and include 10% GST