Colour code your home and office networks with our new rainbow range of Category 6 cables and travel to the future with CAT6A!
Get organised!
CAT6 networks cables are now the go-to standard for home and office computer networks, and with more devices than ever offering RJ45 sockets for network and internet connectivity, it can get confusing when all your cables are the same colour.
Even on small networks, the ability to segregate devices, areas or even whole networks with different coloured cables can make future changes much easier.
Blue for the modem, yellow for the family computer, red runs to the TV and green for the Xbox - easy as! We also have black and white on offer, giving you six options to choose from. Couple them with some cable management and wall plates for a complete solution!
Full compliancy
All of our Cat6 cables are fully compliant with ROHS and ISO/IEC11801 & EN50173 standards (as well as TIA/EIA568) and carry the A-Tick mark for Australian telecommunications compliancy.
They're Telstra Network approved and are individually tested to ensure they're up to spec, so you can use them with confidence in any new or existing network and for all other Cat5, Cat5e and Cat6 applications.
CAT6A is Here!
You can even go one further with our new range of Category 6A (Augmented) cables. These are the latest specification to market, and only come in the one colour, but are rated to handle frequencies up to 500Mhz, which is double that of normal Cat6. Alien crosstalk is also reduced, as are the ISO/IEC rated connectors which perform 3dB better and offer a 50% reduction in near-end crosstalk noise signal power over other specifications.
Cat6A is probably overkill for most standard computer networks, but for critical high-end systems and those which work with high frequencies, Cat6A is the only option. They're double shielded and are rated as Low Smoke Zero Halogen for use in confined spaces, making them essential for military and government installations.
Get yours today!
Cat6 Black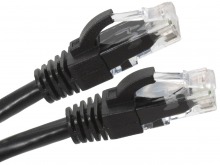 0.5m to 100m
Cat6 Blue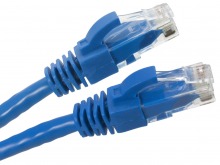 0.5m to 3m
Cat6 Green

0.5m to 3m
Cat6 Yellow

0.5m to 3m
Cat6 Red

0.5m to 3m
Cat6 White

0.5m to 3m

And the big one...
CAT6A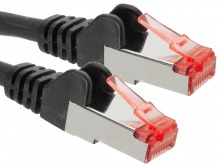 0.5m to 10m
---