The perfect solution for connecting your Nintendo Wii gaming console to your HDMI TV!
Converts from a Wii source to a HDMI display.
Cast away your old Analog cables and experience your Nintendo Wii games like never before, upscaled to Full HD 1080p!
Unfortunately the Nintendo Wii game console was released just before the full onset of HDMI enabled devices, however you can now bring your favourite gaming console back to the 21st century with this Wii to HDMI Converter.
Designed specifically for the Nintendo Wii gaming console (Wii Mini not supported), and smaller than a credit card (measuring only 78mm(L) x 36mm(H) x 15mm(W)), this small Wii console shapped converter plugs straight into your Wii's Multi AV Output socket, providing your with a Female HDMI socket and a 3.5mm Audio Jack - ideal for connecting headphones or an external set of speakers!
How does it work? This converter instantly changes the Wii AV signal to a digital stream, eliminating any loss of image fidelity over analogue cables. It then processes the 480i video using special hardware to stretch it to correctly fit a HDTV, and at the same time keeping the image sharp and clear to stay true to the original source. Don't forget to adjust your TV's sharpness preset to dial in the right level of image accuracy to suit your visual taste!
Retro Gaming Video Converters
Check out our full range of retro gaming converters: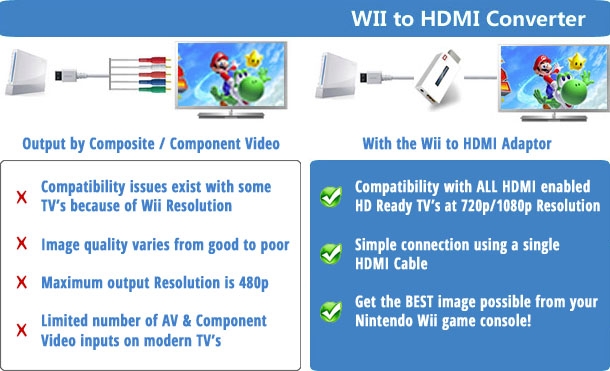 Input:
Connects directly to the Nintendo Wii Multi-AV Output socket
Output:
1x HDMI (Digital Video & Audio) - Female
3.5mm Stereo Audio Socket (Analog Audio) - Female
Important specifications:
12 Month Cable Chick Warranty
Convert and Up-scale your Nintendo Wii AV signals to 1080p HDMI + 3.5mm Stereo Audio
Combines audio with video into one HDMI connection
Outputs v1.3 compliant HDMI
No power supply required for adaptor
Dimensions: 78(H) x 36(W) x 15(D)mm
Not compatible with the new Wii U console (released Nov 2012)
This is a third party accessory for the Nintendo Wii
Colour: White to Match the original Nintendo Wii
Please note that this video converter is not compatible with the Wii Mini
Note: No Wii upscaler can increase the source resolution of the Wii output. All of its operations are performed on the original 480i/480p video stream, and jaggies will persist to some degree, variable by game.Why shop with Cable Chick
Australia's leading retailer of AV cables and tech accessories
Flat-rate shipping nation wide
Secure online shopping 24/7
14 years experience with 1000's of health, government & education clients
ALL products locally stocked for same-day dispatch
Industry leading warranties up to 5-years on products
A customer base of over 250k+ Australians who trust Cable Chick
Proudly to be 100% Australian, employing all local staff